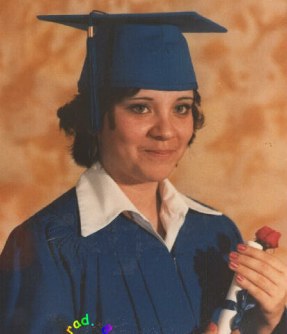 Janine
July 16,1962-April 20,1980
Janine died a month before she was to have graduated. She had written a poem called :My Friend the Graduate" for her upcoming graduation. Her class mates, bound and determined her poem would be heard, against orders, read it into the graduation ceremony. Here is her poem......
MY FRIEND: THE GRADUATE
THE TROUBLE WITH A GRADUATE IS
THEY LEAVE US MUCH TOO FAST
BEFORE YOU TURN AROUND IT SEEMS
THEIR DAYS WITH US ARE PAST
WHILE THEY ARE HERE THEY NEED A LOT
OF UNDERSTANDING CARE
AND MOST OF ALL THEY NEED TO KNOW
YOU'RE GLAD THAT THEY WERE THERE
THEY'LL LATCH TO YOUR AFFECTION
LIKE A PUPPY DOES A BONE
REWARDING YOU WITH FRIENDSHIP
FROM THEIR VERY HEARTS ALONE
YOU WISH THEY DIDNT HAVE TO GO
YOU'D LOVE TO HAVE THEM STAY
HELPFUL AND RESPECTFUL
FOR YOU LOVE THEM JUST THAT WAY
BUT EVEN THEIR WOBBLY LEGS
ADOPT A FIRMER PACE
AND ALL THE SIGNS OF CHILDHOOD
ARE GONE FROM FORM AND GRACE
THEY WON'T FORGET YOUR KINDNESS
OR THE MANY LITTLE WAYS
YOU TRIED TO MAKE THEM HAPPY
IN THEIR SENIOR SCHOOL DAYS
THEIR LOYALITY WON'T WAIVER
AND YOUR PLEASURE NEEDN'T END
FOR THOUGH YOU LOSE A GRADUATE
YOU GAIN A GROWN UP FRIEND
©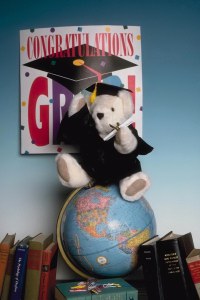 Added to Janine's collection will be a page called Sandy's Page. The reason for this is that Sandy and Janine were great friends and always said that they would wait for one another no matter what. Sadly, Sandy died just three years after Janine in a terrible automobile accident at the age of 20. Sandy was to be married to her love in just three months.