UPDATE

Well here it is a year since the last trial and we have gone no where. It seems that everything that could have gone wrong did go wrong. We have not seen Dainen at all. We do not know how he is or how he is doing. We are hoping to get an appeal date soon.
We did manage to get some gifts to him though. Delivered by a wonderful lady who lives near him. That is one for our side.
Right now we are busy going through case law. Because Bill 204 is relatively new in Alberta the courts are not overly anxious to enforce it, therefore the children and the Grandparents still suffer.
I guess if all else fails Dainen will be 12 in a little over a year and then he can make his own decisions.
UPDATE Mar 3/02
I think we are finally back on track. Due to a series of events that are unbelievable
a whole year has been lost. We are hoping to have the trial transcripts soon and a hearing date. I will not hold my breath as I will die for sure, waiting for the wheels of justice to turn. But we do hope and have a lot of people praying out there for a successful resolution.
"If anyone in Alberta sees this who has won, or is aware of anyone winning a case such as ours, could you please contact us? In fact, any Canadian cases with a positive outcome could help our cause dearly."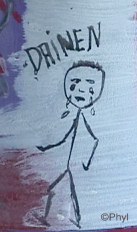 The picture above is my image of Dainen now. It is an image I painted
on the Milk Can.
Today, April 24, 2002
Through the efforts of a very special lady I did see Dainen. He has so much fear in his eyes. Although he wanted to talk he was so afraid. I did manage to tell him that we love and miss him and that we were trying very hard to try and get to see him. I can only imagine what his mother is saying to him to make him so fearful. I believe he is living under some very serious threats. I managed to collect a hug and a kiss and a couple of pictures. My poor baby. I hurt for him so much. Thank you my very special friend. You know who you are.
Today, April 27, 2002
Tonight at around 8:00 PM I received a phone call from Dainen's mother. She told me he is afraid of all of us and doesn't want to see any of us. She said that he will not be allowed any more presents. When I asked her who was making him so afraid she said it it didn't matter. She threatened us with harrassment and stalking.